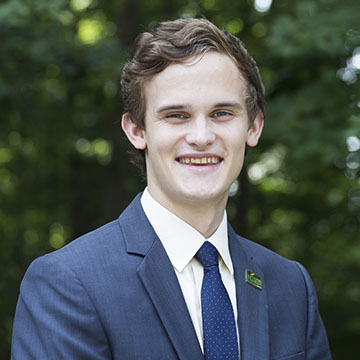 Dylan Henry
Senior Admissions Counselor
Email: dhenry4@gmu.edu
Hello! My name is Dylan Henry and I am a Senior Admissions Counselor here at George Mason University. I am responsible for the New England region. During my collegiate experience, I quickly found my passion for higher education by getting involved in various organizations dedicated to increasing student access to a four year experience. I began by working with Virginia21, a nonprofit organization that lobbies to Virginia House Delegates and Senators to improve financial aid funding to all students, I volunteered as staff for the Delegate for Newport News, and I then served in my alma mater's Office of Admission as a Student Ambassador and University Fellow to assist students in taking their next step in the pursuit of higher education.
I am originally from Newport News, VA and I studied Political Science and American Studies with a minor in U.S. National Security Studies at my alma mater, Christopher Newport University. As a product of a small liberal arts university, I value academic challenges and opportunities, and the community feel that George Mason offers to its diverse student body. I love Mason because it provides the best of both worlds in a college experience: a top-notch education from inspiring faculty who are leaders in their fields, and a campus experience that encourages students to find their passions and get involved. Our students have plenty of opportunities to conduct research, study abroad, create lifelong friendships, participate in internships, and make an impact on the world.
I know the college application process can be exciting and daunting at times, but I am happy to help you succeed! If you have any questions, or want advice on how to navigate this process, please reach out to me! I am excited to welcome you into our campus community and to share with you why I fell in love with George Mason University. Go Patriots!