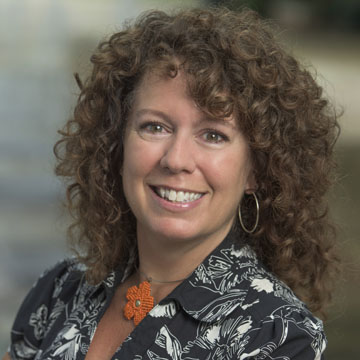 Lauren Wagner
Senior Assistant Director of Admissions
Email: lwagner4@gmu.edu
Hi! My name is Lauren Wagner, and I wear two hats in the Admissions Office. I am a Senior Assistant Director of Admissions, and I am also the advisor to our group of student tour guides – the Mason Ambassadors. I grew up in West Virginia and (like some of you) decided to go out of state for college. My bachelor's degree is from Indiana University and my master's degree is from Duke University. People joke that I chose my schools based on the competitiveness of their basketball teams, and, since I'm now at Mason, I guess there's some truth to that.
A good part of my working life has centered around higher education, mainly teaching, and I truly enjoy working with students, the vibrant life on campus and the unique opportunity that college presents for different perspectives, opinions and opportunities for learning.
I have been with the Admissions office since the summer of 2010, and I can tell you that the love for this university and pride that our students feel for Mason is contagious. I can't imagine being anywhere else and am so thankful to have the opportunity to help students, parents (and even alumni) find a home here with our Mason family.
Choosing a university and crossing this threshold is so exciting, yet I know it can be overwhelming at times. We counselors are here to assist in any way we can, so don't be shy about reaching out for help. Please feel free to contact me anytime with questions about Mason, the application process in general, or (for you alums out there) how to reconnect with Mason in a volunteer capacity. My email is lwagner4@gmu.edu and I can be reached by phone at 703-993-2400.
Good luck on your college search and career, and I hope to see you around campus!
Western State
| | | | |
| --- | --- | --- | --- |
| 9/20/2017 | Rancho Bernardo High School | High School Visit | San Diego, California |
| 9/20/2017 | High Tech High | High School Visit | San Diego, California |
| 9/20/2017 | Westview High School | High School Visit | San Diego, California |
| 9/20/2017 | San Diego Jewish Academy | High School Visit | San Diego, California |
| 9/21/2017 | Canyon Crest Academy | High School Visit | San Diego, California |
| 9/21/2017 | Mt. Carmel High School | High School Visit | San Diego, California |
| 9/21/2017 | Torrey Pines High School | High School Visit | San Diego, California |
| 9/21/2017 | Del Norte High School | High School Visit | San Diego, California |
| 9/22/2017 | Carlsbad High School | High School Visit | Carlsbad, California |
| 9/22/2017 | Mission Vista High School | High School Visit | Oceanside, California |
| 9/18/2017 | EC Glass High School | High School Visit | Lynchburg, Virginia |
| 9/25/2017 | East High School | High School Visit | Denver, Colorado |
| 9/25/2017 | Kent Denver | High School Visit | Englewood, Colorado |
| 9/25/2017 | Southern Colorado College Fair | College Fair/Day | Colorado Springs, Colorado |
| 9/26/2017 | Northern Colorado Out of State Fair | College Fair/Day | Fort Collins, Colorado |
| 9/26/2017 | Fossil Ridge High School | High School Visit | Fort Collins, Colorado |
| 9/26/2017 | Liberty Common High School | High School Visit | Fort Collins, Colorado |
| 9/27/2017 | Chaparral High School | High School Visit | Parker, Colorado |
| 9/27/2017 | Grandview High School | High School Visit | Aurora, Colorado |
| 9/27/2017 | Smoky HIll High School | High School Visit | Aurora, Colorado |
| 9/28/2017 | Cherry Creek High School | High School Visit | Greenwood Village, Colorado |
| 9/28/2017 | South High School | High School Visit | Denver, Colorado |
| 9/28/2017 | SkyView Academy College Fair | College Fair/Day | Highlands Ranch, Colorado |