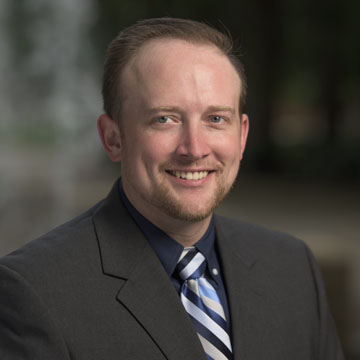 Patrick Money
Senior Assistant Director of Admissions
Email: fmoney@gmu.edu
My name is Patrick Money, and I am a Senior Assistant Director of Admissions for the Office of Admissions at George Mason University. I have lived in Northern Virginia my entire life and attended high school at Lake Braddock Secondary School. I had an amazing experience as an undergrad while earning my Bachelor of Arts in Psychology here at Mason. This area is an incredible place for young people to explore options both professionally and socially - an opportunity I took in full, which ultimately led to a college career I thoroughly enjoyed and would not trade for anything.
One of my favorite memories was when I made my initial decision to come to Mason back in 2006 after I saw the Men's basketball team reach the final four live at the Verizon Center!
I first started working with the Admissions Office in the Spring of 2007 as a student, but now, I am very excited to join the Mason community as a professional. I have a passion for higher education and even more so for George Mason University, and I hope to share it with all those who are interested.
Have a great school year, and please feel free to contact me if you need any help with the college admissions process! GO PATRIOTS!
Just in Virgina
| | | | |
| --- | --- | --- | --- |
| 09/06/2017 | Woodbridge Senior High School | High School Visit | Woodbridge, Virgina |
| 09/06/2017 | Freedom High School | High School Visit | Woodbridge, Virgina |
| 09/06/2017 | Gar-Field Senior High School | High School Visit | Woodbridge, Virgina |
| 09/06/2017 | Potomac Senior High School | High School Visit | Dumfries, Virgina |
| 09/11/2017 | Ridgeview High School | College Fair/Day | Clintwood, Virgina |
| 09/13/2017 | Brentsville District High School | High School Visit | Nokesville, Virgina |
| 09/13/2017 | Stonewall Jackson High School | High School Visit | Manassas, Virgina |
Central States
| | | | |
| --- | --- | --- | --- |
| 10/02/2017 | Lake Forest High School | High School Visit | Lake Forest, Illinois |
| 10/02/2017 | Naperville Central High School | High School Visit | Naperville, Illinois |
| 10/02/2017 | Libertyville High School | High School Visit | Libertyville, Illinois |
| 10/03/2017 | Saint Francis High School | High School Visit | Wheaton, Illinois |
| 10/03/2017 | Wheaton North High School | High School Visit | Wheaton, Illinois |
| 10/04/2017 | Neuqua Valley High School | High School Visit | Naperville, Illinois |
| 10/04/2017 | Naperville North High School | High School Visit | Naperville, Illinois |
| 10/04/2017 | Benet Academy | High School Visit | Lisle, Illinois |
| 10/06/2017 | Payton High School | High School Visit | Chicago, Illinois |
| 10/06/2017 | Saint Ignatius High School | High School Visit | Chicago, Illinois |
Northeastern State
TBA