Mason provides a welcoming, safe and supportive place to live and study while earning your degree. With over 80 undergraduate majors and 127 graduate and professional degrees, you can tailor an education to meet your career and personal goals.
Our top priority is to provide students with access to exceptional faculty and quality academic programs that help them grow as individuals, scholars, and career-ready professionals.
Applications from international students are reviewed with all other applications. Admission to the university is competitive; therefore, while minimum standards ensure that an application will be considered, they do not guarantee admission. The number of applicants, qualifications of the applicant pool, and the amount of available space determine the number of admission offers that Mason can make. In addition to overall admission requirements, some schools and colleges have individual requirements for acceptance into the major. For more information, see school or college admission requirements.
Application Deadlines
Freshmen:
October 1 for spring (January) semester
November 1 Early Action and Scholarship Priority Deadline
April 1 final scholarship deadline
June 1 final deadline for fall (August) semester
July 1 deposit deadline
Transfer:
October 1 for spring (January) semester
March 1 for fall (August) semester
Graduate:
If you are an international student who requires a F1 or J1 Visa to study in the United States, we have specific deadlines for the processing of the I-20. The deadlines given below are the last possible day the Office of Graduate Admissions can process admissions decisions. Please plan on applying to your program and submitting application materials at least 60 days in advance of this deadline to give enough time to process and review applications for a decision.
Cut-off dates for Admissions for International Students:
Spring 2020: November 30th
Fall 2020: July 1st
*These deadlines refer to applicants who require a new F1 or J1 Visa. Transfer students can be admitted after these cut off dates.
Deadlines vary by academic program. Check with the department or school for program specific deadlines.
Admissions Requirements for International Students
International Freshman Requirements
International Transfer Requirements
Information for All International Applicants
International Admissions Scholarship
International Student Visa Information
International Student Health Insurance
You Are Welcome Here Scholarship
International Events
Throughout the year, Admissions representatives travel extensively throughout the world to meet with prospective George Mason University students.
Click here to view our international event schedule.
INTO Mason English Language and Pathway Programs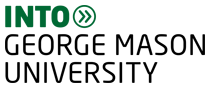 INTO Mason's programs are designed to help international students with their transition to degree study at George Mason University, while providing a strong support system both academically and socially.
INTO Mason offers the following academic programs for international students:
Students will learn alongside American peers to earn academic credits towards their degree while developing English, academic and cultural skills. Upon successful completion the program, they will continue working to complete their Mason degree.
Contact INTOMKTG@GMU.EDU to learn more or visit our team at the Mason Global Center.